AFFiRiS AG is a clinical‑stage biotechnology company dedicated to developing novel disease-modifying immunotherapies for chronic neurodegenerative and cardiometabolic diseases. The company was founded in 2003 with the vision of using the human immune system to identify and target human proteins central to the development and progression of neurodegenerative and cardiometabolic diseases, based on its proprietary patented AFFITOME® technology. The company's ultimate goal is to improve the lives of patients suffering from these diseases by focusing on targeting the root cause of disease rather than solely symptom management.
Following recent publication of highly encouraging data from Phase 1 clinical studies in Parkinson's disease and multiple system atrophy (MSA), and preclinical proof of principle data in dementia with Lewy bodies (DLB), AFFiRiS has in July of this year concluded an asset sale agreement for its alpha-synuclein based neurodegenerative disease portfolio with the company AC Immune SA (NASDAQ: ACIU), a Swiss based company with complementary active immunotherapies in the neurodegenerative disease area.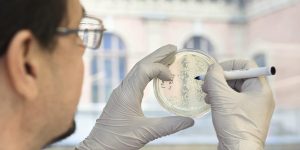 Drs. Noel Barrett and Günther Staffler, Board members of AFFiRiS AG, are particularly gratified that this asset sale willfurther advance AFFiRiS' industry-leading anti-alpha-synuclein vaccine, developed to slow the progression of disease and help to improve the lives of patients suffering from this debilitating disease:
"The transaction also allows AFFiRiS to now focus on the partnering for further development of AFFiRiS' programs in cardiometabolic and other neurodegenerative disease indications, such as candidates targeting PCSK9 in hypercholesterolemia and the monoclonal antibody C6-17 to treat Huntington's disease."
Die Vorstände der AFFiRiS AG, Dr. Noel Barrett sowie Dr. Günther Staffler, freuen sich besonders, dass mit diesem Verkauf, die Entwicklung der marktführenden Anti-Alpha Synuclein-Programme von AFFiRiS weitergeführt wird:
"Diese Transaktion erlaubt es AFFiRiS zudem sich auf Verpartnerungsaktivitäten zu konzentrieren, die die weitere Entwicklung der Programme in kardiovaskulären und neurodegenerativen Indikationen ermöglichen."
These developments have been a consequence of the long-term support of MIG AG, one of the founding investors of AFFiRiS. These diseases, in particular neurodegenerative diseases and cardiovascular diseases (CVD) represent a major threat to human health in today's world, accounting for about 40 million deaths per year.
AFFiRiS on the collaboration with MIG:
"Since their initial investment in 2006, MIG has demonstrated continuous belief in the value of this technology platform and have recognised the importance of developing disease modifying therapies for chronic, non-communicable diseases." Drs. Noel Barrett and Günther Staffler, Board members
Milestones
MIG invests in Affiris 2006
Affiris sells Parkinson portfolio 2021
Back to portfolio